Derek Broadbent
VABBS
Home
About VABBS
Members
Events
News Archive
What is a Brass Band?
Research Project: History of Brass Bands in BC
Links
Little Mountain Brass Band
Brass Belles
Other Links
Contacts
Brian Stride
Jim Littleford
Web Administrator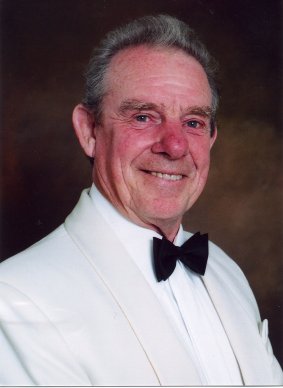 Derek M Broadbent
Derek Broadbent began playing the cornet at the age of nine.
Following a services career spanning some eight years he returned to civilian life as a professional arranger. In 1966 he returned to the world of brass bands and in 1973 became the resident conductor of the world famous Brighouse and Rastrick Band, there to stay for 10 years. During this period he conducted them to premier place in the National Finals in 1980 and was also responsible for their 'chart-topping' success of "The Floral Dance".
In 1984 he became the resident conductor of the equally famous Black Dyke Mills Band and was very much a part of their 1985 "Grand Slam", the year they won every major title.
He returned to Brighouse and Rastrick in 1987 as their professional Musical Director for a period of three years.
In 1988 he was awarded the "Isles Medal of Honour" for his services to brass bands. Since 1990 he has been totally freelance as a conductor, taking the opportunity to direct many of the United Kingdom's top bands. He devotes much of his time to composing and arranging and training the youth of today.
Updated 2004 Oct 15, 18:35 EST/EDT